Yesterday afternoon, I had planned my big first ride on my brand new bike. I literally had not even sat on the thing. The guy at the bike shop called me "an easy sell". I looked at it and said, "I'm just gonna take it" This photo isn't my actual bike, but it looks just like this one. Squint your eyes and think "Shiny sleek black all over with sparkly delicious banana seat".
So I was all ready to go. To take my gal on her maiden voyage. Alas, trouble arose and I fell into a shitty mood. A horrible, dehabilitating funk that made me just want to lay in bed and feel sorry for myself all afternoon. I felt that was my only cure. Good ol' Todd made me feel stupid about wanting to do this and suckered me into putting my ass on that delicious banana seat with promises of treating me to coffee.
It is at this point where describing my day becomes tricky. I immediately biked off into the parking lot near our house and did some wobbly circles, gaining my "bike legs" back after years of only using my legs for such things as walking, dancing and occasionally tripping on things. The magical, childlike, FREE AND HAPPY feeling that poured all over me was so powerful and weakening at the same time. Completely overwhelming. Instantly, I began telling jokes, laughing, and yelling at people (mostly Todd). And he held true to his promise. We biked down to the Botanical Gardens where Andre works for a cup of coffee and a nice break before heading back to town.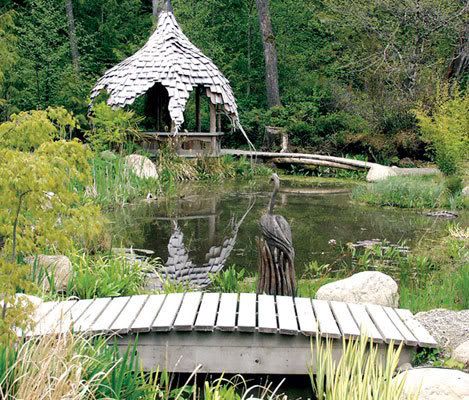 In the beginning, moving out here was supposed to prove how independant I was and how "in control" of my own affairs I was. When it came to fruition, however, I felt more trapped and helpless than ever. These feelings came as such a shock to me and I didn't really understand how to deal with this. I thought many times that I had made the wrong decision coming out here, but time and reflection tells me that it has been the right decision and that I need to stick to my convictions. And as silly as it sounds, this bike is the objectification of everything I was looking to achieve/become when I came out here. Those feelings I felt when first getting on my bike, were the feelings I wanted when I first got here. Of course, in retrospect, it's naive to expect that right away without any work towards it.
To be completely honest, being out here has been really hard on me for the most part. The move to the other side of the country has been far from easy. I never expected it to be easy, I just never expected it to be this hard either. But as each day comes, I feel myself finding more and more positive things in my current situation. I am also starting to feel a small sense or pride in myself for sticking it out at a point where I could have easily left at the first (or second or third...) sign of bad waters. I ultimately see myself striding at full pace to accomplish something I set out to do that I had never attempted before.
It's amazing to me, how this bike was almost a religious experience for me.
Anyway, I don't know if much of that made sense or flowed properly, but there it is.
In other news, I'm looking at doing some sort of cleansing or detox. Do you guys have any tips for me? I'm not looking to purchase a ton of medicinal herbs/oils/shitlikethat (seeing as there's nowhere to buy them in Tofino).