Keep up on fashion trends, even though I love the idea of fashion and everything it encompasses.
However, THIS week, I've been really into it. It all started when I waitched a video of Tavi Gevinson (aka Style Rookie- thestylerookie.com) giving a talk on SASSY MAGAZINE (!!!)
One thing led to another, led to another, and now here I am saving photo after photo of catwalk shows to my computer.
I thought I could share it. so let me show you what I like.
Rodarte!!!
My friend and co-worker Chris summed it up pretty perfectly on my facebook wall, referring to the new collection: "Ok so got home and had to watch again for a second time, after ur excitement of course --- proportions amazing, textiles amazing, combinations amazing; fits and shapes oh my; oh my, oh my, oh my .....so good : rodarte u make me headache with inspiration lol"
To which I replied, "I KNOW, RIGHT!!!!"
Alice and Olivia!!!
I'm not going to pretend to understand it, but Alice and Olivia manage to pile on so many embellishments and glitz, yet all of the outfits are still SO wearable. The combo just doesn't compute for me, but I'm still into it. Kinda boho, kinda dorky. Some outfits were a bit too nostalgia, 70's for my liking, but you can't win 'em all, can ya.
Marchesa!!!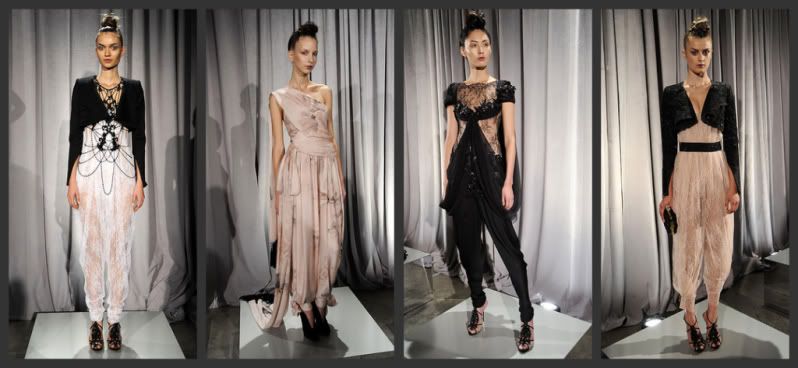 WOAH WOAH WOAH. Totally over the top. Lace, beading, luxurious layer after layer. Lordy, lordy. The intensity of this collection was mindblowing. I want ALL of these outfits. Highwaisted lace harem drop crotch pants?!?! I couldn't come up with anything so perfect in my wildest dreams!! It's got this expensive gothy feel to it, and it reminds me of the way I want to feel right now.